San Fernando Valley Car Wraps, Vehicle Wraps, Fleet Wraps
The Custom Vehicle Professionals
High End Vehicle Customization, Paint Film Protection, and Vehicle Wraps
Whatever type of car wrapping you're after — partial or full, crystal coated or paint protected — we can provide it at Mission Car Wraps. We aim to give our customers the perfect balance of premium quality and cost-effectiveness, and a wide range of options ensures that you'll find the perfect car wraps for your needs (and whims).
These choices include window tinting, tailored designs, paint protection, crystal coating, luxury materials, and more — along with our excellent customer service.
If you live in Mission Hills or Los Angeles County and want to kit your car out with the best coating possible, why look elsewhere?
Fleet Vehicle Vinyl Wraps
Color Change Wrap
Paint Protection Film (PPF)
Graphic Design Services
Building Wall/Mural Wraps
Partial Wraps
More Information
Information related to our Vehicle Wrap Business
What Are Vehicle Wraps?
Essentially, vehicle wraps are heavy-duty vinyl that can be applied to cars to enhance their appearance, replacing the paint job a vehicle comes with. As well as customizing your vehicle with the design you've always wanted, a vehicle wrap allows you to advertise a business. However, they're not permanent. You can remove a vehicle wrap whenever you want, and the original paint job will remain intact.
The Highest-Quality Vinyl Wraps Available
Our customers come back to us time and time again and refer us to their friends for one simple reason: we deliver a premium service.
Unlike some of the short-lasting vehicle wraps on the market, our solutions will keep your car looking amazing for years to come. We use brands such as 3M vinyl to wrap all our vehicles — it's the best on the market and consistently resists fading, scratches, and almost anything else the world can throw at it.
Of course, a vinyl wrap can only be as good as the person who applies it. Fortunately for you, our team has the expertise and dedication to pull off every project they're given perfectly. They haven't let down any customers yet, and we promise that you won't be the first!
We're Here To Answer Your Questions
Reach out today to speak with an expert, or if you want to setup an appointment to get a quote on your next project.
Find The Right Design For Your Brand
Naturally, to make your business stand out for the right reasons, you need high quality and a great design — settling for a cheap wrap usually results in a design fading and blistering after a few months.
At Mission Car Wraps, we'll work with you to design an eye-catching, attractive wrap design that helps you grow your business. These usually include the company logo and contact information, and come in your brand's color scheme.
Here are a few of our most popular services:
Promotional vinyl graphics

Reflective vehicle markings

Custom decals

Fleet graphics

Car graphics

Van wraps
We understand that getting the design right is a difficult task, so we never rush the job. Instead, our team will amend and improve everything until you're 100% satisfied.
Advantages Of Car Wraps
Unlike a paint job, a car wrap never loses its value — it's resistant to wear and fading, and leaves the paint job underneath intact, so you can remove the vinyl wrap at any time. You release agreement and warranty will also stay valid. Perhaps even better, a vinyl wrap is far cheaper than a paint job, yet the finish looks almost exactly the same. Car wraps are also very flexible. If you don't want to cover your entire car for whatever reason, you can opt to put vinyl only on your hood, roof, or mirrors.
But it's not all about being practical. A vinyl wrap is also a great way to give your car a completely unique look that distinguishes it from all other vehicles. For businesses, the benefits of car wraps are even more substantial. You can draw attention to your business and drive hundreds of new customers simply by driving around on your daily business and parking your car.
Vehicle Wraps Get Attention For Your Business
What could be a more effective and affordable way to advertise your business than to apply an attractive vehicle wrap to your car? You can attract the attention of the public as they're stuck in traffic congestion, walking by the road, and even stationing in a car park — all without paying for advertising space or expensive marketing campaigns.
Unlike a billboard or a social media advertising campaign, a vehicle wrap will last for years after your initial investment — often more than five years. Yet the process costs less than a fresh coat of paint would.
Unless you've been living under a rock, you've probably noticed car graphics spring up near you to promote products and services. The popularity of vinyl wraps as a means of advertising businesses has grown recently, and for good reason. From streets to highways to parking lots, eyeballs are guaranteed. Marketing is a necessary expense to grow a business, and you'll struggle to get a better return on your investment for any other type of advert.
You can even use vinyl wraps to promote an upcoming event or a new product, and switch to a new wrap after a certain period. Have your advert seen thousands of times in a single day in your local area. What's not to like?
Why Choose Mission Hill Car Wraps?
Our dedication to quality and customer service is second to none. We use the best materials, the best wrap experts, and the best mechanics — what more could you want?
With a wide range of styles and types available, there's something for every purpose and personal taste. From custom graphics to a single stripe to black-out trim (and far, far more), we'll work with you until we've created the vehicle of your dreams — whether you have a car, truck, fleet, or van.
We'll handle every step of the process, from making a design to installing the vehicle wrap.
If needed, we can even help you design a logo, business cards, or other marketing and sales materials.
What are you waiting for? Get in contact now or drop into our store, and we'll give you a free consultation to make sure we can help you and that you make the right choice. When that's confirmed, we can move on to the fun stuff!
Find us on the web here.
Fleet Vehicle Wraps of Fleet Wraps
If you're business has a mobile fleet, this can be a perfect way to market their products and services to thousands of people each day, by getting fleet vehicle wraps. Whether you're moving interstate shipments or helping local customers, why not use your fleet as a marketing tool? Vinyl wrap is a quick and cost efficient way to add custom fleet graphics to your commercial vehicles. These vehicle graphics can be colorful, creative, eye catching, and really convey the culture of your company. With our history of fleet wraps, you can get be rest assured we'll give boost your brand awareness with a look you can be proud of.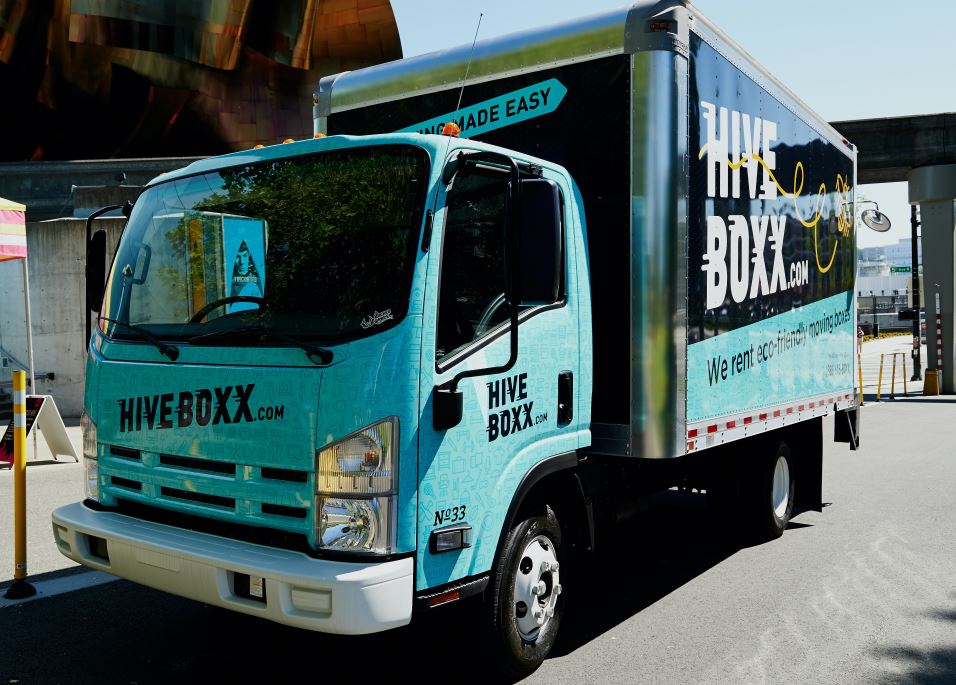 Partial Wraps or Entire Vehicle Wraps?
A question we often get is can custom car wraps cover the entire vehicle, or can we just use partial wraps. Well that depends on the look your going for. By getting full vehicle wraps, that can potentially be more eye catching and make your truck wraps truly be a low cost mobile billboard. However, if you have brand new clean fleet vehicles, it might look better with only a partial wrap which leaves some of your cars original paint exposed. Both can look great, give us a call today and we can show you some examples today to help you choose the custom fleet graphics that work for you. Full wrap or partial custom car wraps, we can provide these for you.
How do Vinyl Wraps Work?
Vinyl wraps are adhesive vinyl sheets that can come in custom colors and custom vehicle graphics printed on the outside. They are shaped custom to fit precisely on your specific vehicle, and applied to the surface of your car, semi truck, or any other type of motor vehicle. Vinyl wraps can increase brand awareness, and expose potential customers to your company. Based on a study from the Outdoor Advertising Association, 95% of American are exposed to advertising via fleet wrapping and vehicle graphics. Fleet wraps are the same as personal vehicle wraps, but tend to be full wraps, for work vans, trucks, or larger vehicles. Once they are applied it looks like a custom paint job, with brand new colors, designs, and logos that match your company branding. Give us a call today for a free quote on fleet wraps for you business.